Mooseworks Software was started in 2003. We specialized in the mobile market before mobile was cool. In that time, we've sold controls to developers who created applications with hundreds of thousands of end users. We've also developed custom controls and applications for customers worldwide. A lot of companies talk about the importance of customers, we live it. We respond to support requests within 24 hours, and if an update is necessary, it happens in days, not years.
Software development is not easy. This is particularly true in specialty areas like mobile applications. We are a full service development company that can support all aspects of
your development, from specification through design and implementation to support. Most importantly, we deliver quality, working solutions on time and on budget. We do what we say we will do.
"Your company offers both a great product as well as expert consulting services. We could not have delivered a quality solution without Mooseworks."
John Hamilton – http://www.cascodev.com/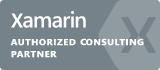 Mooseworks Software is a full service software development company. We can take your idea, work with you to develop feature requirements, and then create mobile apps, websites, databases, data services, and everything that is necessary to bring it to fruition. We can help you publish on the Apple App Store or Google Play, and we can provide web hosting for you as well. We provide training and support of our solutions as well.
We have 30 years of engineering experience and 10 years in mobile. That gives us a solid perspective of what can be done, what will work, and where the limitations are. Unlike many, we do not outsource our work. You will be working and communicating directly with the person working on your project. We stand behind everything we do. Please support your local software developer.